Nestled beside the blue waters of Sarasota Bay, Sarasota is one of Florida's wealthier towns, as well as one of the state's leading cultural centers. It is the hub for the area's history and arts foundation. Sarasota offers arts and culture, activities and entertainment that are fun for the whole family. The area is home to more than a dozen theaters, 30 art galleries and several active artist communities.
The distinctive architecture of John
and Mable Ringling's Ca' d'Zan
is a renowned landmark in Sarasota.
Most visitors stop to see the Ringling Estate on the town's northern edge. For years, circus magnate John Ringling made Sarasota the winter headquarters of his world-renowned Ringling Brothers Barnum & Bailey Circus. Ringling and his wife Mable constructed their magnificent winter residence
"Ca' d'Zan" (House of John) and a museum to house their extensive art collection. The John and Mable Ringling Museum of Art includes an art museum specializing in the baroque, a circus museum, gardens and a state-of-the-art theater. The lovely grounds are host to special events and festivals throughout the year.
When you see the giant orange and pink flamingos, you'll know you're in the right spot! Enjoy a whimsical moment as you view a variety of quality art objects by diverse artists at The Marietta Museum of Whimsy.
The Children's Rainforest at Marie Selby Botanical Gardens offers a delightful, natural space for discovery, exploration, learning and PLAY! This family-friendly elevated, one-acre horticultural feature simulates one of the wildest places on earth - the tropical rainforest, home to half the world's known plant and animal species. The only admission requirement is to be a child at heart!
Speaking of bromeliads...Tropiflora is one of Sarasota's best kept secrets. Among the top producers in the world of collector-grade bromeliads and other exotic species, the owners and staff have opened their doors to invite you to explore the many acres of greenhouses. Tropiflora will ship plants worldwide.
Or visit the Sarasota Classic Car Museum and see John Lennon's Mercedes Roadster or beautiful DeLorean made famous in the Back to the Future movies.
For gaming action, visit the Sarasota Kennel Club featuring year-round simulcast dog & horse racing live via satellite Mon-Sat, rain or shine. Dog racing nightly at 7:30pm & matinees at 12:30pm. Matinee & evening horse racing.
Waterfront activities and restaurants are a big part of Sarasota's allure. Marina Jack, a long-time destination, is located downtown on Sarasota Bay. They offer luxury sightseeing lunch and sunset dinner cruises daily as well one of the area's finest seafood restaurants.
At Le Barge you can enjoy a narrated sightseeing cruise, a dolphin encounter cruise or a sunset cruise on their floating tropical island. Also on the downtown waterfront is Oleary's Tiki Bar & Grill for a waterfront breakfast, lunch or dinner with a view.
Radiating out from downtown are other fine restaurants and entertainment options for visitors.
For Mexican food, there's none better than Mi Pueblo with its traditional atmosphere, including live Mariachi music. If you have a yen for authentic Japanese cuisine, you're in for a treat at Saga Japanese Restaurant.
Sarasota abounds in water activities. For inshore and nearby gulf coastal waters guided fishing, Let's Get 'Em Fishing Charters is an excellent choice with an experienced captain who knows the area's best fishing spots.
Island Jeep Excursions is the areas only personalized jeep rental service offering the spirit of vacation adventure you're looking for. Enjoy exploring on your own time experiencing the island life!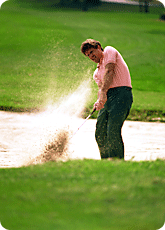 An amazing number of golf
courses are available for
those who love the green.
Sarasota is a golfer's paradise, boasting over 50 public and private golf courses. Bobby Jones Golf Club is Sarasota's only municipal facility featuring the American, the British, and the Gillespie Executive Golf Courses.

The Palms Golf Club at Forest Lakes is centrally located in Sarasota. Home of stress free and friendly golf, scratch gofers to beginner golfers can play either 9 or 18 holes. The Palms is a great place to improve your game at the aquatic driving range, floating greens, and chipping and putting greens. Enjoy a beverage, breakfast, lunch or dinner at the indoor restaurant or Veranda Bistro outside.
Shopping options abound in Sarasota. One of the most famous areas is found just west of
downtown Sarasota on Lido Key.
St Armands Circle is a quaint, strolling collection of charming shops and unique eateries. Every visitor needs a new swimsuit before hitting the beach, fortunately Swim Mart has the largest selection in Florida.
Sarasota offers something for everyone: a fun day at the beach, culture, attractions or simple enjoyment of the beautiful Sarasota surroundings. For more in-depth information, your best source is the Visit Sarasota County.