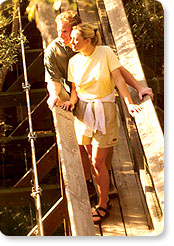 Be it hiking or birdwtching, the
Ellenton & Palmetto areas offer parks
and recreation areas for everyone.
Palmetto is located on the north shore of the Manatee River. This quaint city is home to Palmetto Historical Park, the Manatee County Agricultural Museum and the Madira Bickel Mound State Archeological Site, an ancient Native American site.
To the southeast of Bradenton, Lakewood Ranch is a 7,000-acre master-planned community offering world-class recreational facilities, from the Sarasota Polo Club to the Sarasota International Cricket Club and its very own Main Street dining and shopping district. Anchored by University Parkway, this cultural community winds north across the Braden River.