Downtown Bradenton claims its Village of the Arts, where artists live, work and sell. Around Main Street, it resurrects a district once dependent on the Manatee River. Bradenton offers a delightful destination for visitors to enjoy a leisurely lunch on the river, browse around the many artists' facilities and peruse antique shops of all descriptions.
With its hip personality, downtown Bradenton combines antique shops, restaurants and a waterfront district, plus a unique collection of bungalows transformed into art galleries. Bradenton combines culturally advanced attractions like the Bishop Museum of Science and Nature.
The Bishop Museum of Science and Nature is the largest natural and cultural history museum on Florida's Gulf Coast. One of Florida's sweetest attractions is Mixon Fruit Farms, just east of downtown Bradenton. Here you can visit a working 70-year-old citrus grove and taste the best fruit and juice around.
Experience riding and swimming on horseback with C Ponies. Ride out into the bay, bask in the bauty of the sea life, and end your ride with an invigorating swim on horseback.
Another popular attraction is Smugglers Cove Adventure Golf where you'll find 18 holes of the best mini golf around set in a Swashbuckling-style atmosphere.
If you're looking for a terrific seafood restaurant, Anna Maria Oyster Bar is a favorite among residents and visitors alike. More than just oysters, this family friendly restaurant offers great prices and outstanding fare.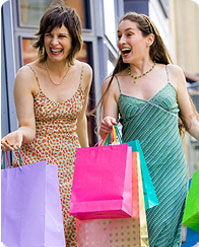 Shoppers will enjoy the opportunity
to unearth treasures in Bradenton's
many antique and specialty shops.
For a unique shopping experience, visit the Red Barn Flea Market for great bargains in an air-conditioned environment. There are a number of fine golf courses in the Bradenton area to choose from.
Your best source for additional information about things to see and do in the area is the Manatee Chamber of Commerce.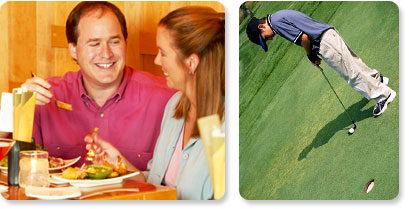 Casual dining and golfing are two fabulous ways visitors can relax in Bradenton.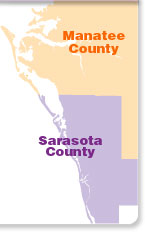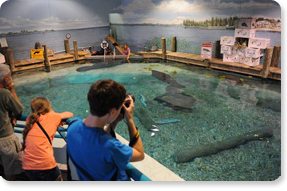 Splash your day away at Parker Manatee Aquarium!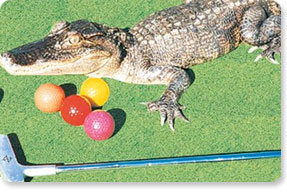 Play the best Adventure-Style Mini Golf at
Smugglers Cove Adventure Golf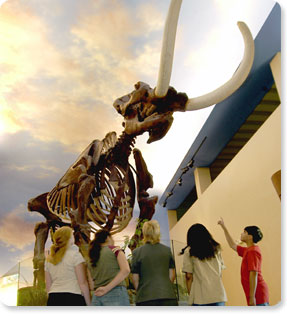 Visitors will be awed by the Bishop Museum of Science and Nature, the largest natural and cultural history museum on Florida's Gulf Coast.